quickie cap® is committed to inspiring you to streamline your morning routine and take time for yourself in the evening by offering this advanced, multi-tasking, time-saving beauty tool.
HIGH QUALITY Non-disposable/re-usable product woman-owneD
All quickie caps® are made in the USA. The whimsical prints are limited edition designer fabrics that are 100% cotton laminated or "waterproofed" by polyurethane† and have a polyester/spandex band. The solid colors are waterproof breathable nylon.

†Fabric manufacturer assures CPSIA compliancy and BPA-free, phthalate-free laminate.
How quickie cap® was born…
When I first came up with the idea for quickie cap® my hair was shoulder-length, layered and permed!
I was working as an actress – auditioning almost every day, and needed something quick and easy for showering, bathing and washing my face over the sink. I was very busy and needed a solution for getting my hair:
UP (without using a ponytail holder than left my hair kinked) and

OUT OF THE WAY (without using clips and bands that still let strands of hair dangle on my face).
That is where my creation began. I had tried shower caps and knew that they were ridiculously inefficient. Tucking is time-consuming and shoving hair into a shower cap crushes the style. Even when you manage to get the thing on, hair slips out and gets wet at the hairline. (I could really go on and on about the shower cap's shortcomings.)
But the shower cap's faults really got me thinking about creating one beauty tool to solve all of these problems.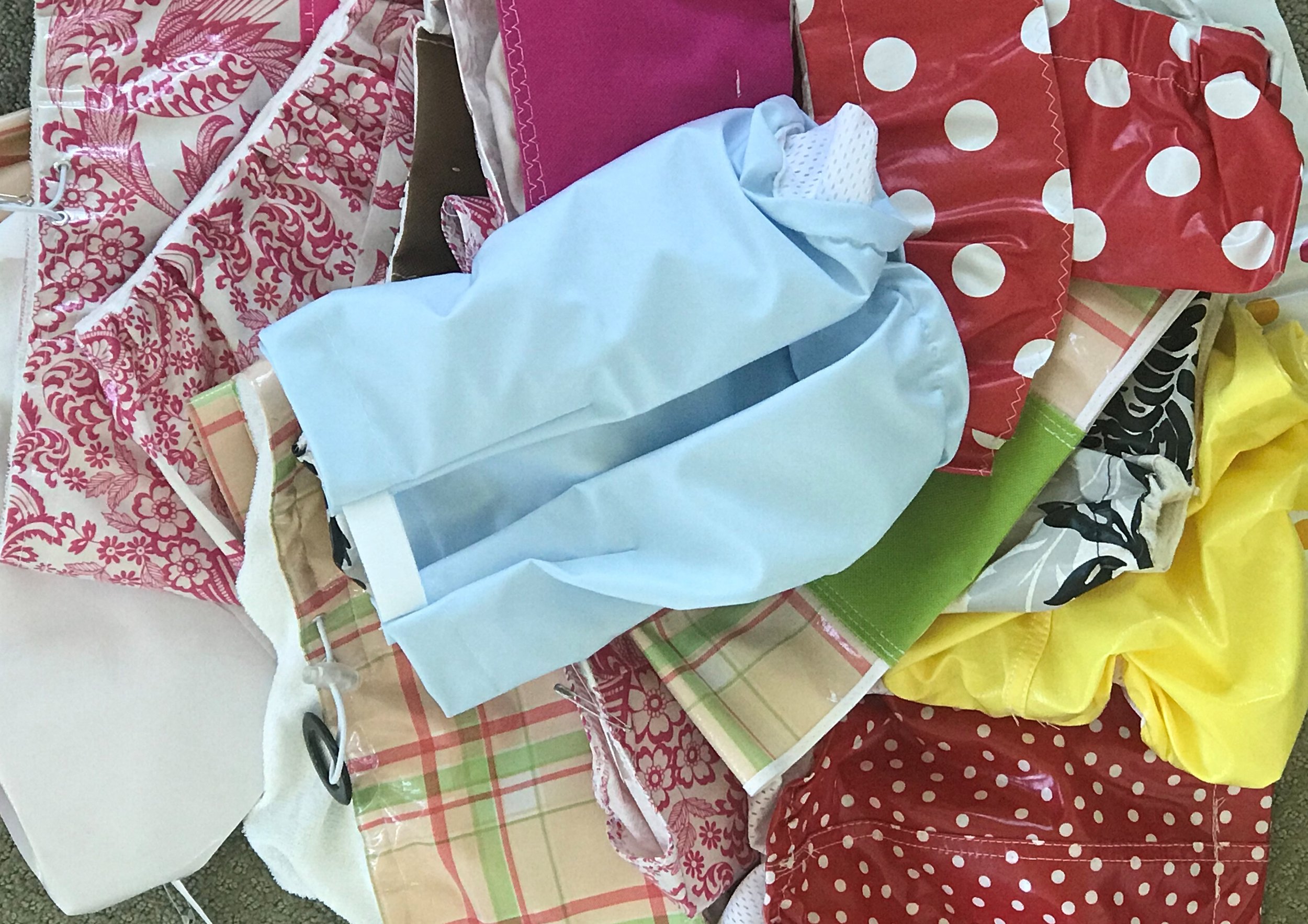 Coming up with a final prototype took almost 2 years. This is only 1/3 of the prototypes that I created.
To say that I became obsessed is an understatement. Having learned to sew in high school, I was able to create a working prototype that I could experiment with, use and perfect. This perfecting process took well over a year-and-a-half.
After about 9 months, I stopped auditioning and devoted myself completely to developing quickie cap.®
I then set out on a journey to make it available to all women. (I can now tell you a little about patent applications, working with a pattern maker, sourcing the right fabrics or materials and finding a manufacturer!)
Just for fun, I compiled this quick video (below) of my countless hairstyles over the years!
It includes highlights from a few commercials (for these brands) and a couple movies that I worked on.